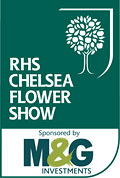 We exhibited again at  RHS Chelsea Flower Show on Suzie Marsh's Sculpture Stand (PW 29). Suzie was awarded a Three Star Exhibitors Award.
There were over fifty of our irises in flower:
The irises were presented in flower and in good condition after a very tricky period in April and May leading up to the Show. This process is both very demanding and stressful. An article detailing our preparation process was featured by Eastern Daily Press.
We received many favourable comments on the irises, and visitors to the Show exhausted our leaflet supply.
There has been much talk in the gardening press in the build up to the RHS Chelsea Flower Show about concerns over the lack of British Plants. This is a concern we share. However, the display of the National Collection of Cedric Morris's irises in the Main Pavillion was one of the highlights, a triumph for Sarah Cooke who had put the Collection together after painstaking research over the last ten year.
This is a great accolade for Sarah and for British Irises in particular. It made a welcome change to have British Irises featuring prominently at Chelsea again. Perhaps this is a useful precedent for the future?