This is a copy of the Summer/Autumn Update 2022. If you would like to receive this please do feel free to subscribe.
OPENING REMARKS
Spring is now moving into Summer, and the evenings are drawing out. Nearly a month after Mid Summer's Day it is still just about light at 11.00pm in the north of England. Let's hope for a decent Summer to raise our spirits and dispel gloom about the economy and difficulties within government. As gardeners we are so lucky to have our gardens; they provide solace and renewal in troubled times and keep us looking forwards.
Please accept my apologies for the lack of communication during the last twelve months. These are challenging  times and I plan to resume more regular Updates.
THANKS
We continue to have a great response to our irises. I want to thank you for your continued support for small specialist British independent growers. I am pleased to report that our mailing list continues to grow steadily.
Please mention us to your gardening friends. Word of mouth referrals continue to be the most valuable source of publicity, and if you like the Update, please encourage them to our website and/or subscribe to the Newsletter. Simply send them the link: https://www.englishiriscompany.com.You can find the link to subscribe to the Newsletter at the bottom of the home page.
2022 FLOWERING SEASON
After the long cold Spring in 2021, the weather this year is much kinder, and our irises in Norfolk were simply spectacular, the best ever. However, there is little rain during the last three months, and this is hampering the development of new root growth. I am holding off lifting plants that need to be moved for another month at least.
Tall Bearded irises are resilient, but the way that the seasons go we seem to be having prolonged wet and dry periods more often. Your irises cope much better with dry conditions rather than the wet. This makes it even more important that you make sure the drainage is good.
Customers report losing long-established irises unexpectedly last year, and this is often the reason. Extended wet periods at any point in the year are not great for Tall Bearded Irises, and the problem is exacerbated with irises grown in heavy clay soil. If you think this may cause you problems again this year, try inserting coarse gravel underneath the rhizomes. I appreciate this is not easy if the ground is baked solid, but it is a holding measure if you are not minded to lift your irises this year.
PLANT DELIVERIES IN 2022
We send out plants once each month, usually during the last week of the month. Our aim is to despatch irises by post on a Monday/Tuesday giving the best chance of delivery by the end of the week. The bulk of irises  are sent Ist Class Royal Mail Small Parcel rate,  and delivery is normally within 2/3 days. This service is reliable and we also offer a Guaranteed Next day Delivery option with Royal Mail which is a sensible option for larger orders.
RHS CHELSEA 2022
We are pleased to provide Bearded Irises that featured prominently on the Gold Winning British Iris Society Centenary Stand at the RHS Chelsea Flower Show in 2022. This is a very special year for the British Iris Society, and are glad to play a small part in their success.
Century Pink is one of two Bearded Irises chosen by the British Iris society to commemorate their Centenary in 2022. It was bred by Bryan Dodsworth and will be available for sale shortly. Annabel Jane and Darley Dale, two of our current collection of Award Winning Bearded Irises were included in the display, along with Dovedale and a stunning unregistered Purple Seedling bred by Simon Dodsworth.
Pictures of the British Iris Society Display are available on the British Iris Society website
NEW INTRODUCTIONS IN 2022
We aim to introduce some new irises every couple of years, and are delighted to introduce two new irises this year. Both are 'top drawer' Bearded Irises and are well worth adding to your existing iris collection.
EILEEN LOUISE
Eileen Louise is a great addition to our exclusive Award-Winning range of Pink Bearded Irises including Sherwood Pink and Catherine Seville.
This exceptional Pink Bearded Iris has a perfect flower shape and classic 'Dodsworth' branching. It is also sweetly scented. Flowering in the mid-bloom period, it is a useful addition to your iris garden.
Eileen Louise is perfect on its own, and for those who love Pink Irises, try it with Catherine Seville that blooms a little later, and with Sherwood Pink that blooms later still.
BLUE CREVASSE
This is an exceptional Pale Blue Bearded Iris, paler than Skye Blue. The Standards (the three vertical petals) are a diaphanous, translucent pale blue, redolent of the glacier after which the plant was named. The falls (the three horizontal petals) are paler still, almost grey with distinctive veining. This is a sophisticated, classy Pale Blue Bearded Iris, with perfect flower shape and classic 'Dodsworth' branching. It has fruity sweet mango scent.
It flowers right at the start of the mid-bloom period, and goes well with Ice Pinnacle, Bryan's Best Blue and Eileen Louise.
FEATURED IRISES
Red Pike
This one of my 'must have' irises from our Award-Winning Collection. It is one of the best 'red' irises my father produced and far superior to many other 'reds' available. Another reason for choosing it is that it is a highly versatile plant. It works well planted with other 'hot' colours (orange/magenta/strong yellow), but try mixing it with 'soft' colours (pinks/pale yellows). This makes it one of my top five irises.
Red Pike has everything: colour – a deep burgundy-red, great flower shape and classic 'Dodsworth' branching with a delicate spicey scent. It bulks up well, is disease resistant and lasts for years and years.
PARTNER GARDENS
Doddington – The irises at Doddington Hall are now in a new bed in the walled garden so that the gardeners can treat the soil for 'mare's tail', a highly invasive and resistant weed.
Abercamlais
We are working with the new owners of Abercamlais in Breconshire on the Welsh borders to set up a new collection of our Irises in their walled garden. This project is in its early stages, and further beds will be added this Autumn. This is an exciting new development and means that our irises are now much more accessible to keen gardeners in the Southwest of England/Wales. Watch this space.
IRISES AS CUT FLOWERS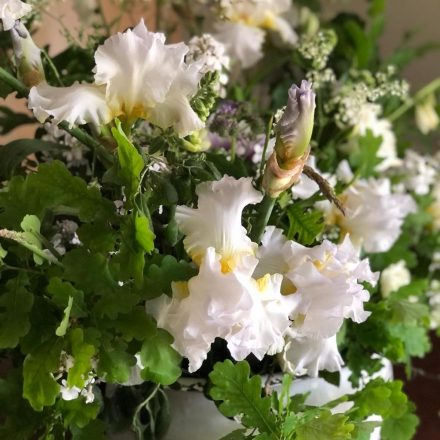 We are in contact with several enthusiastic Growers of Cut Flowers who are keen to use our irises. They are part of the UK- Grown Flower Producers Group know as 'Flowers from the Farm'. This as a great way to raise the profile of our own Iris Collection and promote the versatility of our Bearded Irises as Cut Flowers by bringing them to a new market.
Going forward we plan to have a section on the website with links to Cut Flower Growers who use our irises, and customers can send our irises in flower to family and friends.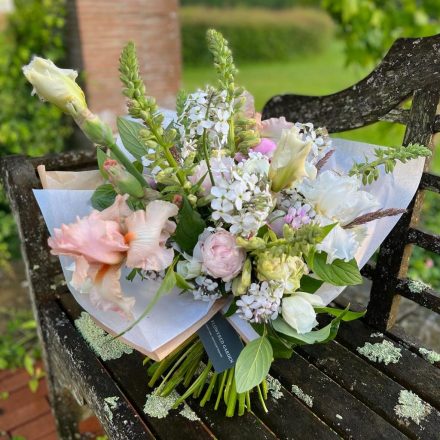 IRISES AS PRESENTS
Sending irises as presents is something we are very happy to do. This is popular with customers and the feedback we receive both from both donor and recipient is always positive. Please remember this when you are struggling to find the right gift for a gardening relative or friend.
https://www.englishiriscompany.com/bearded-irises-advice-and-support/give-irises-as-presents/
We are unable to deliver plants by specified dates due to the monthly delivery schedule but are happy to send a card with appropriate message, saying the irises are on their way. This seems to work well.
Sending Iris Gift Vouchers is a good alternative and works throughout the year. Cards are sent out quickly to meet special dates/anniversaries etc. For further information https://www.englishiriscompany.com/shop/bearded-iris-gift-vouchers/
WEBSITE CHANGES
Investment in the website continues in two main areas. Responses from customers placing orders is encouraging, with regular comments that they find the site easy to use and navigate.
Finding new ways to improve the functionality of the site is important, and we always welcome feedback on things you like, but also things that can be done better!
SEARCH OPTIMISATION
Improving our 'Search' ranking is incredibly important. However, this is a long slow process, but, we believe we are finally making progress. Customers are finding us quicker and more easily, and our placings on the important key word search pages is improving. This is vital during a period of economic uncertainty.
WHERE YOU CAN HELP Having regular Business Reviews is another way to help the search ranking. We encourage new customers to provide a review if they like the service we offer and the quality of plants we provide. Existing customers can help us too by writing their own business review. All you need to do is to log into Google and press the link https://tinyurl.com/54eshvft
If you like what we do and enjoy our irises, this would be very much appreciated.
SOCIAL MEDIA
Please connect with the Social Media sites and alert your friends who are keen gardeners. We know that a more active presence on social helps our search ranking, and regular posts and interaction from visitors to the site are important ways to do this.
We have been on Instagram since June 2020 and already have 1142 followers.
Please use the links below:
DIGITAL MARKETING
We are working to see whether we can increase sales through paid advertising on Google. The process is complicated, but, thus far, the returns are positive. Internet activity year on year is down due to several factors, not least the current economic climate, and this directly affects sales we generate through internet organic searches.
Investment in paid advertising becomes more important in this context and you may see some of our ads on Google. In future we hope that once customers have found us through paid advertising, they buy from us direct in future.
https://www.englishiriscompany.com/
COMPANION PLANTING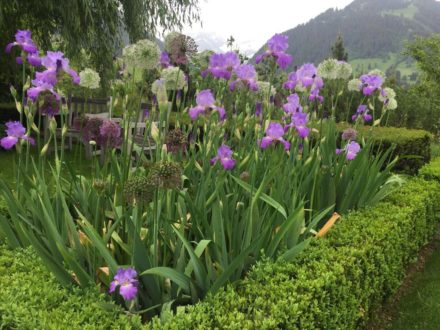 The article on Companion Planting is popular and generates significant 'footfall'; it is the third most used 'landing page' on our website.
If you missed it first time round, it  is a good read and may give you new ideas [Companion Planting].
We explore the concept of Companion Planting and explain the pro's and cons of opting for a Dedicated Iris Border, or using Bearded Irises in a mixed Border. It shows why our Bearded Irises with their wide colour range are well-suited to mixed planting in a Spring or Summer Border; it also shows the value of using irises with  'clear clean colours'.
There is a useful section on FAQ's at the end. I hope you enjoy it, and please give me your feedback and email me: Please switch on JavaScript to see our email address
PLANT CARE
A few pointers to help you this Summer/Autumn
General Plant Health
Inevitably your irises may be looking a little 'tired' after flowering. Please resist the temptation to remove the old flower spikes and allow these to die back naturally, until they are completely dried out. Only then remove them by pushing the spike over at the base using your thumb. This creates a natural break at the base of the rhizome which allows it to heal naturally.
Please note that if you cut back the green flower spike, soon after flowering, you risk sapping the energy of the plant and allowing water to run down the cut stem into the rhizome. This only increases the risk of rhizome rot. t
Feed– Make sure you give your irises a good handful of bonemeal after flowering; this encourages the development of new offsets and improves root growth for the flowering plants next year. I recommend you supplement this with liquid seaweed feed for the next six weeks until the bone meal starts to work.
DO NOT use 'Growmore' or equivalent. Nitrogen only encourages leaf growth and contributes to iris rot.
Division – Decide whether your irises need splitting this year/not. Work out whether you plan to do this the traditional way (every four/five years) or use the Doddington method of iris division. Go to https://www.englishiriscompany.com/how-to-plant-and-care-for-bearded-irises/ and look for the section on division. I strongly recommend using the Doddington method.
Cutting Back – Allow the plants to continue to grow until mid/late October, and later if they are still growing well, before cutting the leaves into a fan shape to approx. 5/6".
Plant Hygiene
Remove any old leaves from the base of the plant and cut back/remove any main leaves on the plants that are discoloured.
Check for slugs/snails (See below)
Watch for tell-tale signs that your irises are in trouble. Often you will see a section of plant that is lying flat on the ground and nine times out of ten, this means that you have rot. Examine rhizomes and make sure healthy, cutback and remove any that are showing signs of rhizome rot and dust with 'Vitax' or equivalent sulphur in powdered form.
Slugs
If slugs are evident (and remember you may not be aware that they are), use an organic product 'Ferrimax' approved by RHS or 'Sluxx', the product we use. Check websites for availability.
Reports from a few customers over the winter indicate that some irises struggled. This is unusual because Bearded Irises are pretty tough and resilient. I ask always for photographs, and, often, these images show the tell-tale signs of slug damage. The small black slug is a most persistent and deadly pest. It is not always easy to spot, but look for signs of leaf damage, and often holes in the rhizome itself., both above, and often, on further inspection, below!
Weeds
Now is a good time to check the iris beds after flowering and remove the worst of the perennial weeds to prevent seeding.
For further information about planting and caring for your irises, use the link below. https://www.englishiriscompany.com/how-to-plant-and-care-for-bearded-irises/
CLOSING REMARKS
Enjoy your gardening and please tell your gardening friends about us, and finally do please write a business review if you have enjoyed this Newsletter.
Simon Dodsworth
Owner
Email: Please switch on JavaScript to see our email address
Phone: +44(0)7789 670 299